One of Ann Arbor's newest food trucks,
FedUp
, is dedicated not to selling food, but to addressing food injustice and food insecurity by offering free meals with a side of hope and dignity.
Headquartered at Zion Lutheran Church in Ann Arbor, with whom FedUp partners, FedUp is a ministry of the Evangelical Lutheran Church in America (ELCA) and the Southeast Michigan Synod, ELCA. The truck can be found every Wednesday at Liberty Plaza in Ann Arbor. Since last July, FedUp has served over 7,000 free meals to people of all faiths. 
"Hunger knows no bounds or boundaries. Hunger doesn't care about race, class, where you live, or how you look. Your neighbor could be hungry and you might have no idea," says Rev. Anna Taylor-McCants, executive director of FedUp. "FedUp has been on a mission to serve as many people as we can, and it's our goal to reach even more folks in communities that are food-insecure and economically exploited."

FedUp executive director Anna Taylor-McCants.
Rather than providing a one-size-fits-all brown-bag meal to every guest, FedUp staff take special care to cater meals to guests' preferences and dietary restrictions. The charity's executive chef, Shari Spencer, has over 30 years of culinary experience under her belt and leads a small team of volunteers in creating nutritious meals mostly from scratch. 
The FedUp team recognizes that allowing people to choose foods that meet their physical, emotional, and spiritual needs also allows people to maintain their dignity. The truck offers vegetarian, vegan, and gluten-free menu options, and staff custom-cook orders when needed. 
"We really understood the value of this at Christmas. People are grateful to have [meatless] options," Taylor-McCants says. "It's important to us that we make food the way people want or need it, so that no one leaves hungry."
For Mykayla Richards, FedUp's approach is invaluable because it gives sustenance not only to a person's body, but also to their mind and soul. Her insight comes from having been on both sides of the food truck's window. Richards is homeless, and she's been an active FedUp volunteer since she moved into Ann Arbor's Robert J. Delonis Center in January.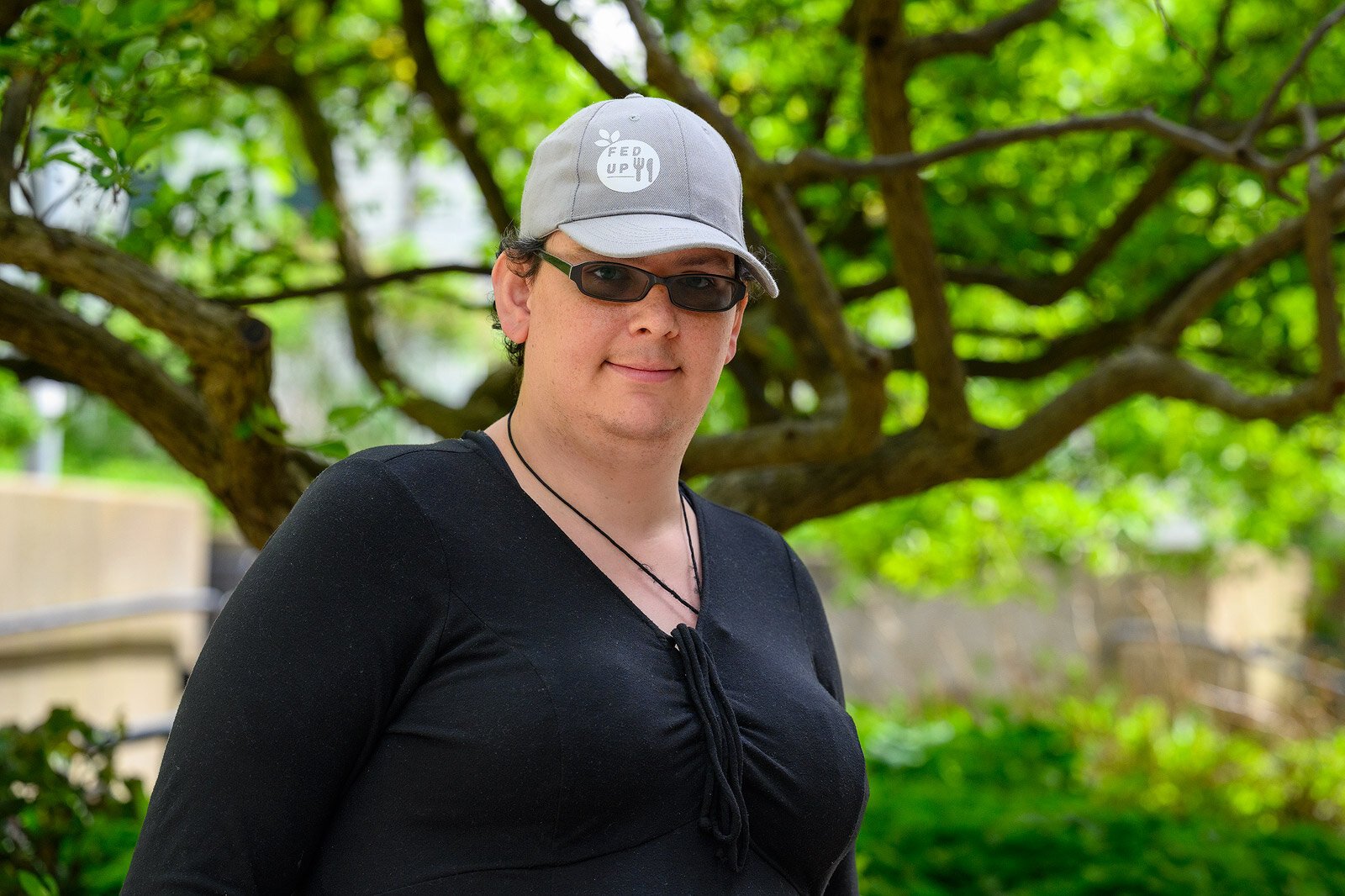 FedUp volunteer Mykayla Richards.
"There is always a loving family atmosphere and the food is always healthy and delicious," she says. "People are always blown away by what we do. I'm still always blown away by what we do."  
Richards says she's "done it all" in her short time working for FedUp, from squeezing lemons for the truck's signature lavender lemonade to chopping salad ingredients and learning more about kitchen and food safety "than most ordinary people should ever have to know." By taking guests' orders and inquiring about dietary needs, Richards has come to understand just how important FedUp is to the community. 
"When you think about a food truck, you think about just grabbing a meal, but at FedUp, we want to know what you need. Maybe it's just food. Maybe it's housing or just someone to talk to," Richards says.
She adds that she's also learned more about herself in the process, and that the experience has changed her life.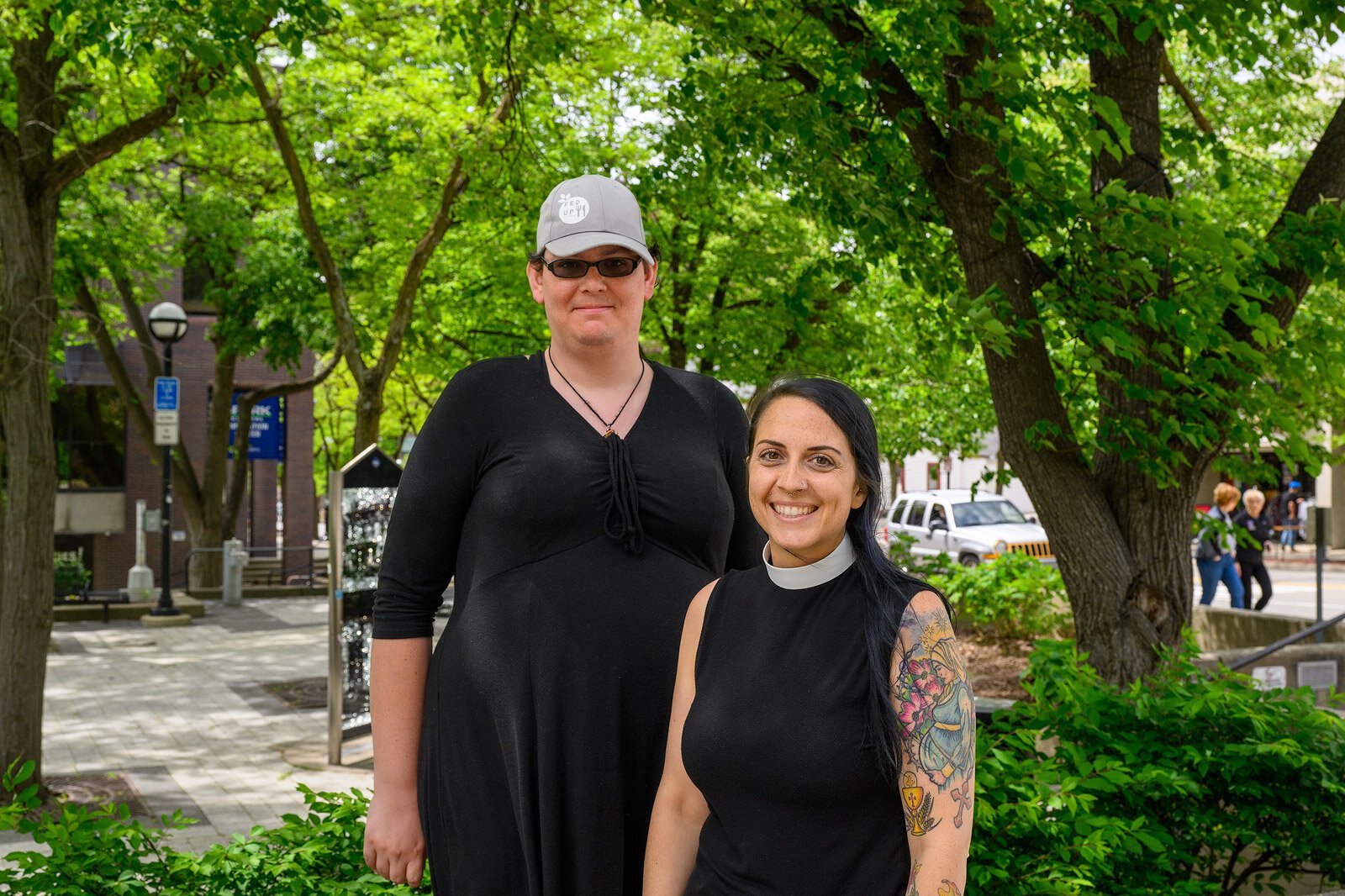 FedUp volunteer Mykayla Richards and FedUp executive director Anna Taylor-McCants at Liberty Plaza.
"As things progress, I'm going to work for FedUp and get paid for what I do," she says. "I may not be happy about the situation that I am in now, but I've already found out how to make it better and how I can make other people's days better."
Taylor-McCants is also thinking about the future. She's working on expanding FedUp's services to include mobile shower and laundry services.
"When people are fed and they look good and their clothes smell good, it builds up their dignity," she says. "It's really about feeding and caring for the whole person." 
Jaishree Drepaul-Bruder is a freelance writer and editor currently based in Ann Arbor. She can be reached at jaishreeedit@gmail.com.
All photos by Doug Coombe.