Police have heaped blame on the driver of a matatu involved in a grisly accident along the Nairobi – Mombasa highway.
18 people lost their lives while two others were rushed to nearby hospitals after the PSV collided with a truck at Taru, Kwale County on Friday evening, July 8, 2022. 
A preliminary report released by the police indicated that the matatu driver caused the accident while overtaking at a continuous yellow line. 
Traffic laws prohibit drivers from overtaking at such spots as yellow lines caution them of blind spots which comprise sharp bends, corners, dipping roads and close proximity to a busy intersection.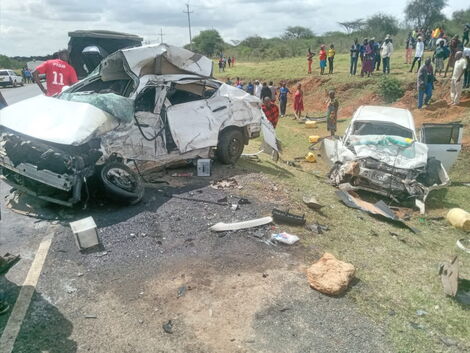 Vehicles involved in a road accident near the IIbisil area on Saturday morning, January 22, 2022.
Courtesy
Police stated that they will launch a crackdown on major highways following the grisly road accident. 
"This tragedy is a reminder of the need for utmost care by all road users. Road safety is a shared responsibility and everyone must make efforts towards safeguarding their own lives and that of others
"NPS will continue enforcing the Traffic Act in a bid to ensure compliance with the requirements of the law. We further urge the public to take part in the ongoing NTSA Usalama Barabarani Programme that aims to provide," read the statement by police.
Last month, the government issued guidelines on the use of campaign vehicles with the police launching a crackdown along major highways in the country.
Government spokesperson, Cyrus Oguna, cautioned candidates against using unroadworthy and unlicensed vehicles to campaign. 
"On their part, riders and motorists should drive within stipulated speeds and deviate from carrying an excess number of passengers.
"Considering that schools are in session, riders and drivers who are helping in the campaign of their candidates are urged not to play loud music around schools as doing so disrupts learning. They should keep a safe distance from school zones in order to ensure the safety of our children," Oguna ordered. 
According to statistics by NTSA released in June 2022, 1,912 people died in road carnages since January this year with the road safety agency expressing fears over the increase in the number of accidents as compared to 2021.
NTSA blamed the rise on reckless driving.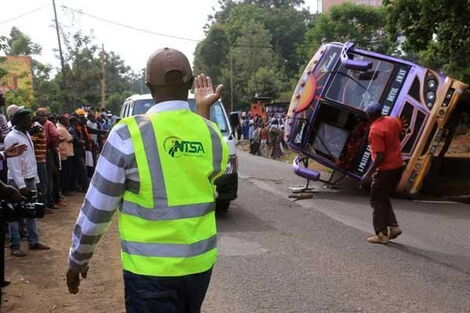 An NTSA official marshalls traffic at a past accident scene
NTSA
accident died