DAT is proud to be a sponsor of the Women Impact Tech Conference in downtown Denver at The Cable Center from July 12-13.
The event is an inclusive community of hundreds of inspiring women in tech. Women who are breaking barriers, innovating, and flourishing. Please stop by the DAT booth (number 16) to find out how we can help drive your career forward.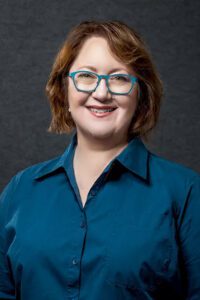 July 12 at 4:15 p.m. – Overcoming Impostor Syndrome
Nadya Duke Boone, DAT's Chief Product Officer, is also a published science fiction author and former improv comedian. No stranger to "Imposter Syndrome," she has successfully coached others on how to show up with confidence. At DAT, Nadya leads Product Management, Data Science and User Experience Design functions for SaaS products serving logistics and supply-chain. Previous roles include New Relic, where she developed their first artificial intelligence products, and Jeppesen, a SaaS acquired by Boeing.
Visit the DAT Booth to find out how drive your career forward
DAT is an award-winning employer of choice and a next-generation SaaS technology company that has been at the leading edge of innovation in supply chain logistics for 44 years. Stop by booth number 16 to meet our team and learn about exciting roles that are available now.
Shelley Bower, DAT's Director, Engineering, most recently served as software development manager for Amazon's AWS Ground Station business, which provides fully managed ground-station-as-a-service for satellite communications. Prior roles include HERE Technologies, a leader in developing autonomous mapping and deployment strategies for vehicle OEMs, and serving as a technical program manager at Uber, leading a team responsible for large-scale infrastructure platform integration to support Uber driverless cars and trucks.
Eric Staples leads the DAT iQ product management team. DAT iQ's suite of SaaS products provide business intelligence to supply chain executives with customized insight into their organization's transportation rates and performance. Prior to joining DAT, Eric was Global Director of Software Product Management at Ricoh, delivering B2B enterprise solutions to customers across a spectrum of industries including retail, telecom, finance, healthcare, IT and government. Eric is a native Coloradan who loves the outdoors.
Niza Volair is a Software Engineering Team Lead at DAT. Their team works in the analytics domain creating data rich interfaces and visualizations that drive customer success on DAT iQ, which was recently added to the Bloomberg Terminal, an essential source of news, financial data and trading tools for more than 325,000 subscribers. DAT iQ also provides supply chain insights and rate benchmarks from global shippers, totaling more than $137 billion in annual transportation spend.
About DAT Freight & Analytics
We operate DAT One, the largest freight marketplace of its kind in North America, and the DAT iQ data analytics service. Shippers, transportation brokers, motor carriers, news organizations and industry analysts rely on DAT for market trends and pricing insights derived from 249 million transportation logistics matches on the spot market and a database of $124 billion in annualized supply-chain transactions.
Founded in 1978, DAT is a wholly owned subsidiary of Roper Technologies (NYSE:ROP), a diversified technology company and constituent of the S&P 500 and Fortune 500 indices. DAT.com