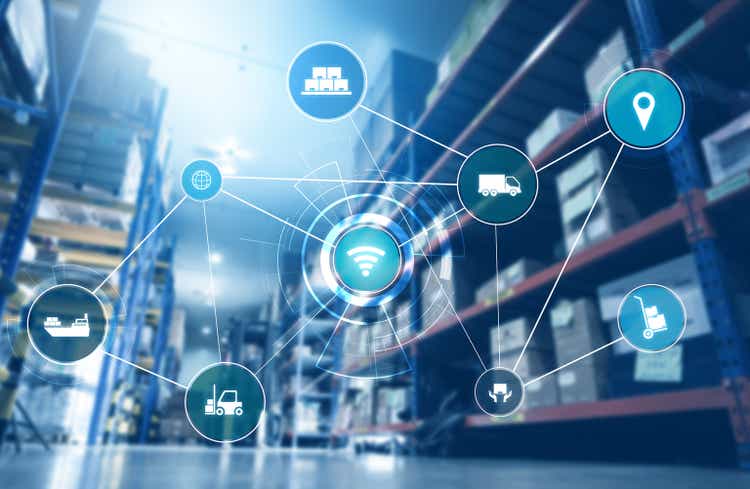 A Quick Take On Full Truck Alliance
Full Truck Alliance (NYSE:YMM) went public in June 2021, raising approximately $1.57 billion in gross proceeds from an IPO that was priced at $19.00 per ADS.
The firm operates an online freight platform to facilitate shipments across a range of types, weights and distances in China.
While the company may begin to add new users again, it still faces macroeconomic slowdown risks and regulatory uncertainties.
Until those risks are quantified and begin to be removed, I'm on Hold for YMM.
Full Truck Overview
Guiyang, China-based FTA was founded to create a digital logistics hub assisting truckers and shippers in locating, negotiating, booking and tracking road shipments.
Management is headed by founder, Chairman and CEO Peter Hui Zhang, who was previously regional manager of the B2B unit of Alibaba Group.
The company's primary offerings include:
Freight listing service

Freight brokerage service

Online transaction service
The firm obtained customers initially by fielding direct sales teams at offline logistics parks but has since phased out that marketing mode in favor of word of mouth and online marketing channels.
Full Truck's Market & Competition
According to a market research report by Beroe Advantage Procurement, the Chinese market for road transportation services was an estimated $25 billion in 2020.
This represents a CAGR (Compound Annual Growth Rate) of 6.5% in recent years.
Logistics participants tend to be concentrated in the Southwest and Southcentral regions of China.
Also, the report indicates that many industrial companies prefer third-party logistics providers (3PLs) because of their ability to organize a range of trucking contractors, provide service coverage in diverse areas and have longer payment periods than other participants.
Major competitive or other industry participants by type include:
Carriers

Brokers

Freight matching companies

Tech-driven freight transportation firms
Full Truck's Recent Financial Performance
Total revenue by quarter has grown substantially in recent quarters: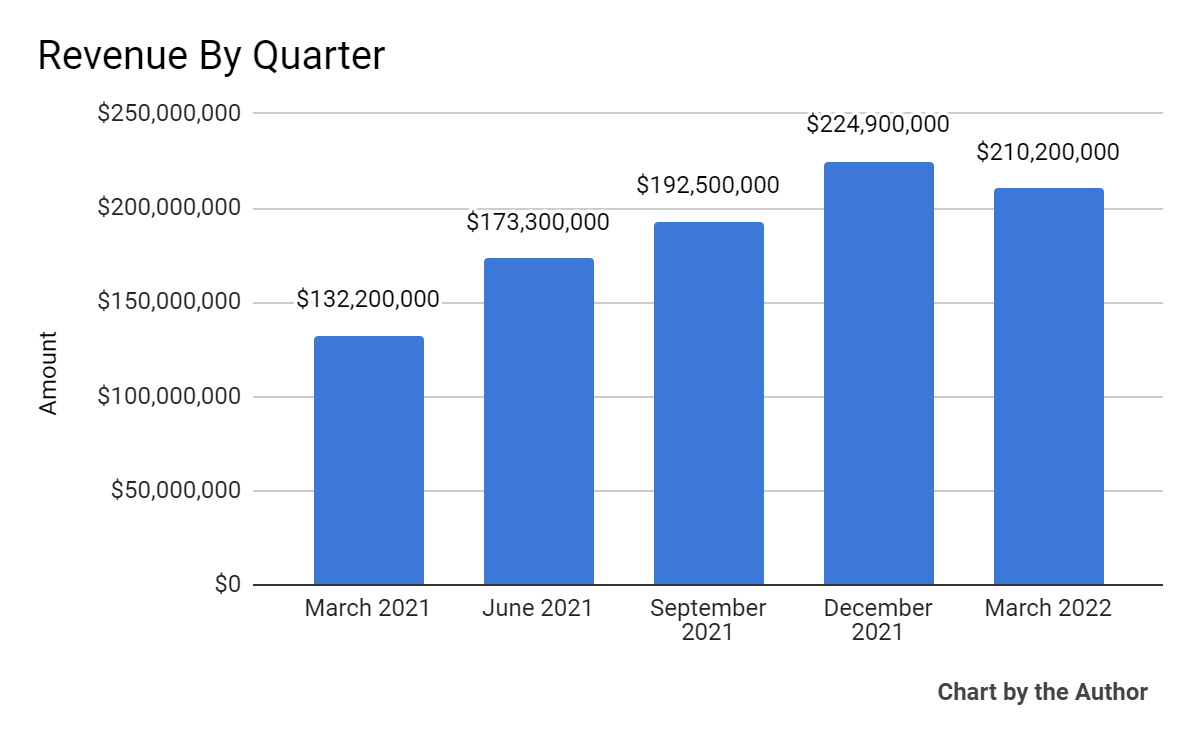 Gross profit by quarter has fluctuated over the past 5 quarters: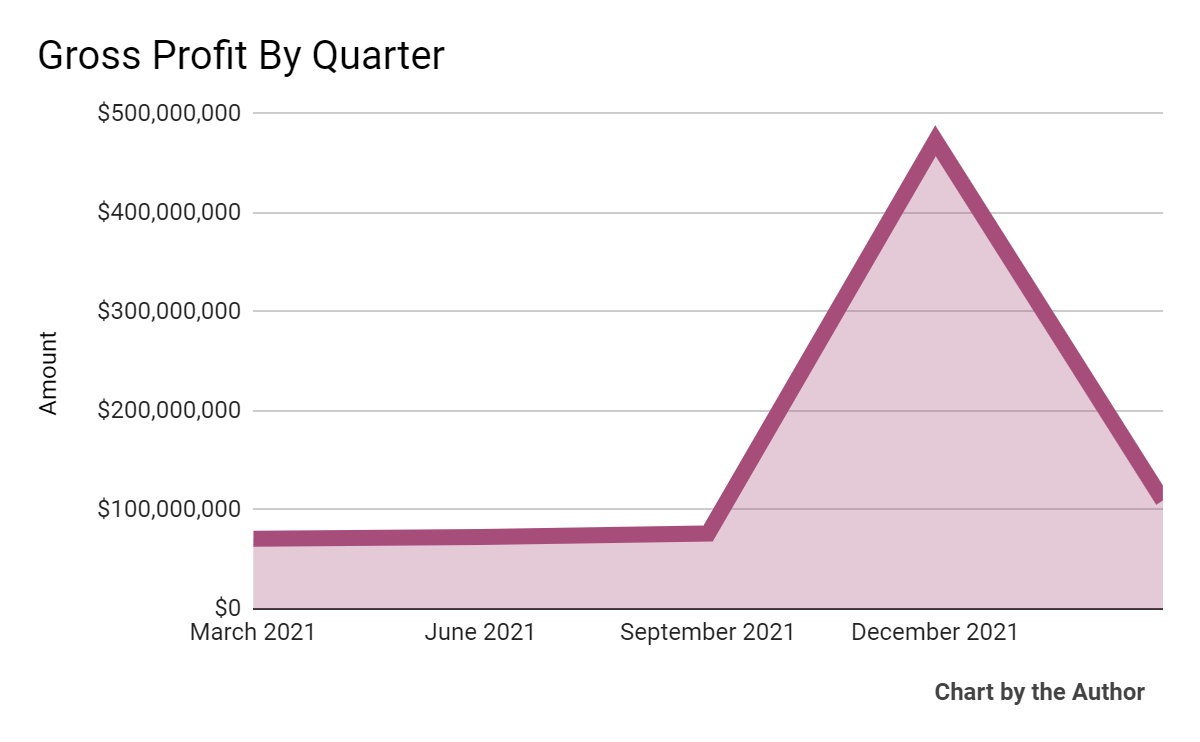 Selling, G&A expenses as a percentage of total revenue by quarter have varied considerably in recent reporting periods: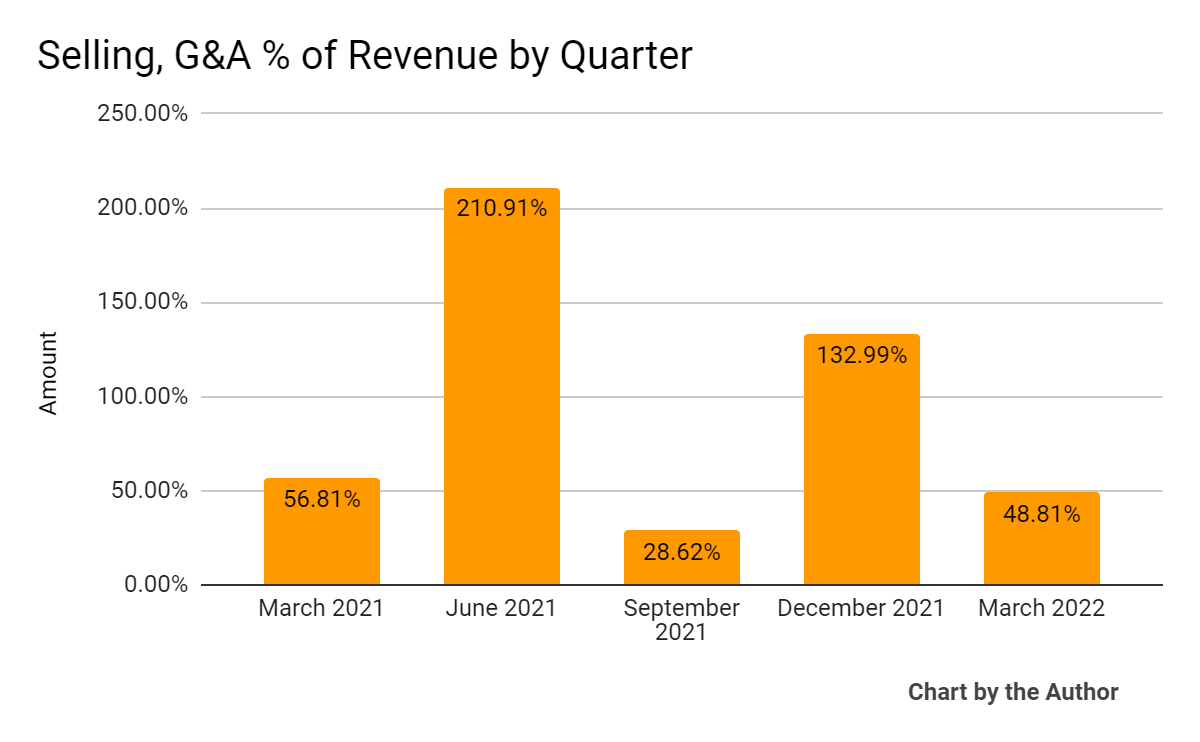 Operating income by quarter has remained negative, as the chart shows below: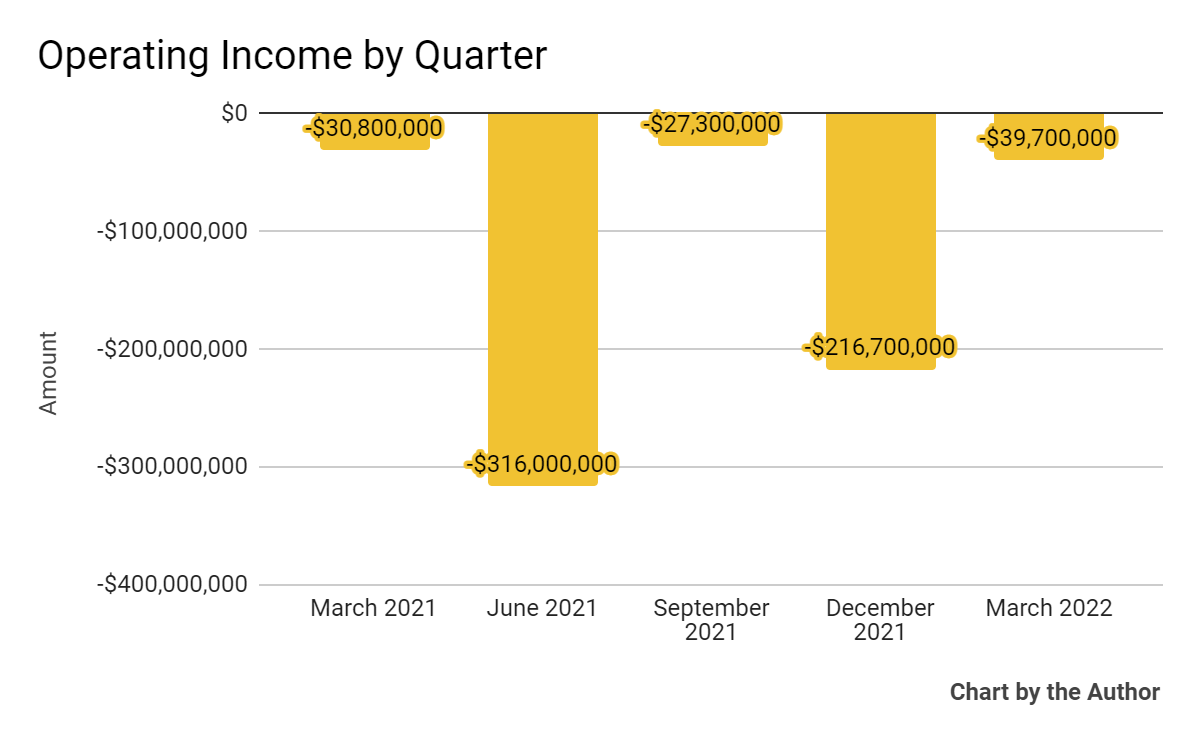 Earnings per share (Diluted) have remained negative in the past 5 reported quarters, as shown here: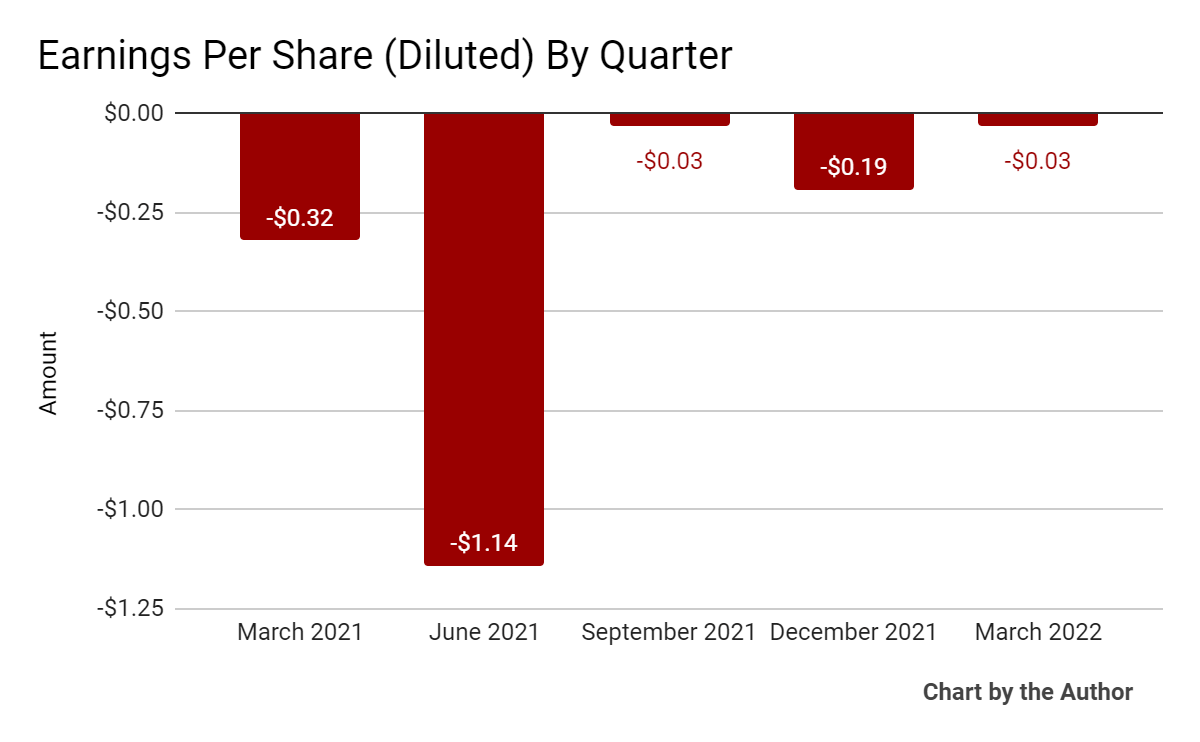 (All data in above charts is GAAP)
In the past 12 months, YMM's stock price has fallen 18% vs. the U.S. S&P 500 Index's drop of around 7%, as the chart below indicates: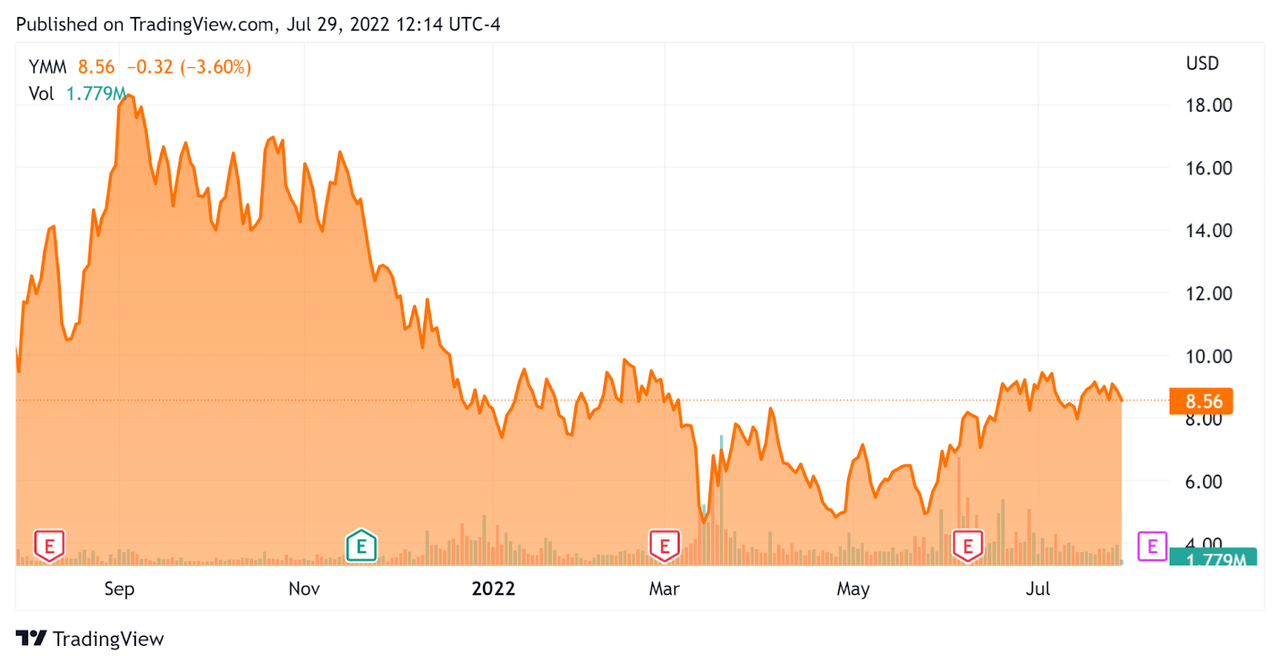 Valuation And Other Metrics For Full Truck
Below is a table of relevant capitalization and valuation figures for the company:
| | |
| --- | --- |
| Measure | Amount |
| Enterprise Value | $5,890,000,000 |
| Market Capitalization | $9,840,000,000 |
| Enterprise Value/Sales (TTM) | 7.29 |
| Price/Sales (TTM) | 9.78 |
| Revenue Growth Rate (TTM) | 73.63% |
| Operating Cash Flow (TTM) | -$33,270,000 |
| Earnings Per Share (Fully Diluted) | -$1.39 |
(Source – Seeking Alpha)
Commentary On Full Truck
In its last earnings call (Source – Seeking Alpha), covering Q1 2022's results, management highlighted the firm's growth trajectory despite the absence of new users as the company was required by Chinese regulators to cease accepting new users while performing a security review of its systems.
Since the earnings call, YMM has been allowed by regulators to begin accepting new users, as the data security review has apparently been completed.
Management sees a continuing trend toward digitalization in the Chinese logistics industry, which it believes will favor its digital-first approach.
As to its financial results, total revenue increased 53.7% year-over-year, primarily as a result of revenue increases from its freight matching service. Freight brokerage fees also increased markedly, as did value-added services.
However, its cost of revenue rose considerably due to 'an increase in VAT-related tax surcharges and other tax costs.'
Sales and Marketing, G&A and R&D expenses grew significantly as the firm added headcount and paid greater share-based compensation.
For the balance sheet, the firm ended the quarter with approximately $3.8 billion in cash and equivalents while it used operating cash of $14.4 million during the quarter.
Looking ahead, management guided to Q2 revenue growth of around 43% at the midpoint.
Regarding valuation, the market is valuing YMM at an Enterprise Value/Revenue multiple of approximately 7.3x despite annual revenue growth of over 73%.
The primary risks to the company's outlook are the potential for service disruptions as a result of China's zero-COVID policies and resource shortage in the transportation industry, resulting in increased costs and delays.
Additionally, the overall Chinese economy is growing very slowly, if at all, due to the impacts of recent lockdowns and inflation shocks.
Also, the company has been named on the SEC listing for the HFCAA, which means the firm could be delisted on U.S. markets if its auditor's working papers are not made available for inspection by the PCAOB within a three-year period.
More recently, an announcement by the company indicated its gross transaction value (GTV) for Q2 2022 dropped by 11.1% year-over-year, a worrying sign.
While the firm may begin to add new users again, it still faces economic risks and regulatory uncertainties.
Until those risks are quantified and begin to be removed, I'm on Hold for YMM.