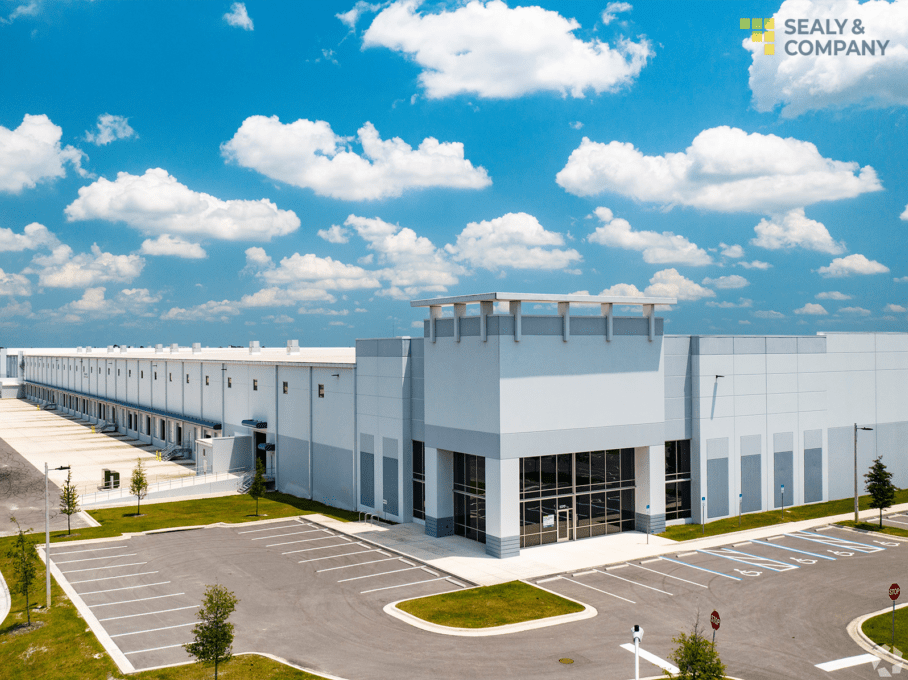 Sealy & Co. has acquired two Class A logistics facilities totaling 841,849 square feet in Lakeland, Fla. Oxford Properties Group sold Building 200 and Building 300 of Key Logistics Center for a combined $98 million, Polk County records show.
The two industrial properties last traded in September 2021, when the current seller paid $45.9 million for the 491,920-square-foot Building 200, which now fetched $53.5 million, according to CommercialEdge data. The 349,929-square-foot Building 300 traded for $32.3 million last year, while this time around it commanded $44.5 million.
The 520,000-square-foot Building 100, which KKR acquired this February, was not part of the current transaction.
---
READ ALSO: Is Flexible Warehousing the Next Step for Industrial?
---
In the first seven months of the year, seven industrial properties totaling 2.1 million square feet traded within a 10 mile-radius of Key Logistics Center, CommercialEdge data shows, for a $53.84 average sale price per square foot, roughly half the $116.41 price per square foot paid by Sealy & Co.
CBRE Vice Chairman Frank Fallon represented Oxford Properties Group in the off-market transaction. The buyer opted for in-house representation, with a team led by John Nida, senior regional director of Sealy & Co., and Jason Gandy, managing director of investment services.
Acquisition appetite
Sealy & Co. remains an active industrial investor. In the second quarter through early June, the company invested $206 million to acquire approximately 2.4 million square feet of industrial assets in five markets. In April, the Dallas-based firm acquired a fully leased distribution center in an off-market transaction. Core5 Industrial Partners sold 1225 Southgate Parkway, a property totaling 437,589 square feet in Etna Township, Ohio.
In June, Sealy & Co. picked up a pair of fully leased industrial properties in metro St. Louis. Cushman & Wakefield represented the seller in the disposition of Corporate Woods Trade Center, a Class A facility totaling 235,200 square feet in Earth City, Mo., and the 534,871-square-foot Hitzert Court in Fenton, Mo.
Later that month, Sealy & Co. purchased the 600,000-square-foot AeroPlex One & Two in Romulus, Mich., from Nemer Property Group.
Two Class A industrial assets in metro Tampa
Completed in 2019, Key Logistics Center – Buildings 200 and 300 at 5300 Allen K Breed Highway have cross-dock configurations and are equipped with ESFR sprinkler systems. The two buildings feature 36-foot clear heights, truck courts between 130 and 185 feet and offer a total of 196 dock-high doors as well as a combined 411 parking spaces.
The two facilities are within 2 miles of U.S. Route 92, Polk Parkway and Interstate 4. Lakeland Linder International Airport is some 5 miles away, while downtown Tampa is 29 miles west.
Notable tenants in the area include Ace Hardware, Amazon and Publix. As of June, industrial vacancy across the Tampa metro reached 6.9 percent, 230 basis points higher than the national average, according to CommercialEdge.